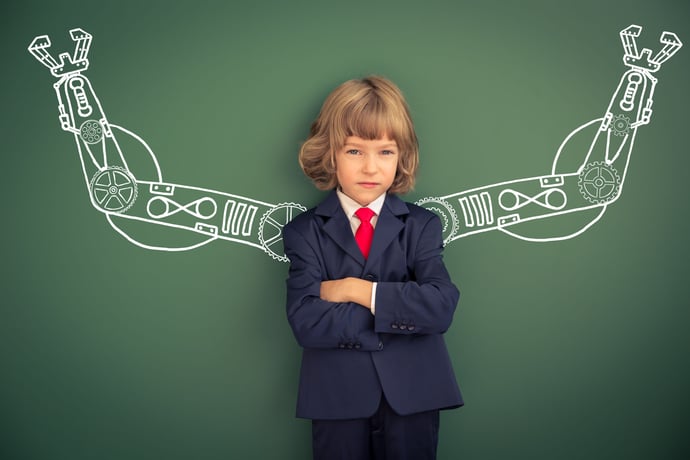 All signs are pointing to chatbots when it comes to what the future of customer engagement will look like. Is it too soon to start thinking about integrating bot technology into how your B2B tech company operates? Well! Surely Chatbot is still in its toddler phase but soon it's going to graduate from an ever-changing kid to a complete grown-up dependent technology.
It might seem strange to think that bots can actually help to improve the way you run your B2B tech company. However, the reality is that chatbots can vastly improve the experiences of your customers. This game-changing technology is something that most top-tier tech brands have already started utilizing to offer quick and meaningful responses to clients. The big question is whether chatbots are the friends or foes of sales professionals. Many sales professionals feel intimated by chatbots because they view them as offering watered-down versions of real human interaction. In addition, many companies shy away from automation as it pertains to customer interaction out of fear of creating a generic experience. It's important for startup leaders to embrace bots as a type of technology that can level the playing field.


What Does A Chatbot Do?
The great thing about chatbots is that they can cover a variety of tasks. Some tasks that chatbots can be assigned include:
Executing reminders for calendars and meeting schedules
Computing stats on an ongoing basis
Taking care of the first level of customer service
Creating summaries
Providing support for instant purchases

Misconceptions About Chatbots
The big misconception that most people have about chatbots is that they are entirely robotic and rigid in the ways they communicate with users. The reality is that chatbots are designed to provide useful information in a personal way. You can choose to implement bot technology using these two ways:
The big benefit offered by chatbots is that they are awake even when your staff is asleep. Chatbots are always there to provide basic information or verify that inquiries and questions have been received after business hours. This is particularly important in the world of tech startups because most new companies don't have large teams. They are able to serve as placeholders until human staff members can provide responses that are more complete. Providing instant acknowledgement and feedback is a way to protect against the likelihood of a lead going to a competitor instead.

Combining Your Strengths Using Chatbots
What is really fascinating about today's chatbot technology is that companies can customize the way they utilize them. Your strategy can include any of the following configurations for customer experience:
Exclusive contact with chatbots
Contact with chatbots until conversation is elevated using human support
Contact with chatbots only for automated situations
Contact with chatbots following human interaction


How Are Tech Companies Using Chatbots?
"Bots are the new apps," Satya Nadella of Microsoft recently declared. There are many ways tech companies can utilize chatbots. They can be used to collect data, observe patterns or provide one-on-one support any time of the day or night.
Facebook is one of the tech giants out there today that is fully embracing chatbot technology. The company has unveiled a tool that allows companies to build their own bots for Facebook's messaging app. These bots can interact with customers in automated ways.
The best example of a chatbot that has been successfully integrated into user experiences is Apple's Siri. Amazon's Echo and Microsoft's Cortana also demonstrate the ways a chatbot can become a central part of the experience of using a product or service. "These devices will help people not feel strange or awkward about saying things to technology or saying things to computers," Dharmesh Shah of HubSpot recently said regarding the impact of the bots featured in popular technology products.
Some examples of companies that have successfully implemented chatbot technology to create better communication and shorter wait times are:
H&M uses chatbots to assist with shopping by remembering style preferences
Domino's uses chatbots to allow customers to speak or type orders into mobile devices
Sephora offers chatbots that serve as personal stylists
RBS uses chatbot technology that makes it easy to make account changes
Mattel has started adding built-in talk features on some toys
Can Bots Play A Role In B2B Lead Generation?
Most startup leaders aren't concerned about paying for pricey technology simply for the sake of jumping on a trend. They want to know that the technology they're investing in will pay off. Those in the world of B2B sales tend to assess the value of everything based on whether or not it will create lead generation. Where do chatbots stand when it comes to creating leads and making it easy to follow up with those leads? Here's what chatbots do for B2B companies:
Streamline operations
Improve customer service
Simplify specialized tasks


Chatbots Can Be Personal
It can be hard to envision a world where bots will do the heavy lifting when it comes to engaging in sales discussions with prospects. The simple reason for this is that anyone who has ever dealt with sales understands what a delicate and interpersonal thing the process of closing a deal is. Customers value a personal touch when they're throwing money at a product or service. In addition, skilled sales professionals are valuable precisely because they possess the rare talent of being able to earn trust and create persuasion. It's reasonable to say that it would be impossible to completely replicate this magic touch in a robot for the time being. What a chatbot can do is act as a supplementary tool that actually allows your sales team to be more efficient. Bots bring value to the table by helping firms to access data and develop faster processes. As a result, sales professionals can spend more time engaging directly with leads instead of dealing with the behind-the-scenes work of acquiring, organizing and analyzing data.


Chatbots Are Here To Stay And Rule

The public has gotten used to seeing chatbots take pivotal roles in the products rolled out by giants like Amazon and Google in recent years. 2017 is likely to be the year that customers begin to see more chatbots used by smaller companies. What should you know before you research possible chatbot solutions that can be integrated into your company? It's important to have metrics in place to measure how the use of chatbots affects the following:
Lead conversion
Customer retention
Customer wait times
Customer satisfaction
Chatbots offer the biggest advantages in the world of B2B leads when they are used as supplements. A good rule to follow when introducing chatbots is to use them only to bridge the gap between customers and your sales team. A chatbot should never be the endpoint for communication if you're attempting to build relationships.
How do you feel about the future full of Chatbots adding interesting angles to the customer engagement and being an integral part of the Sales? What are your thoughts on it?