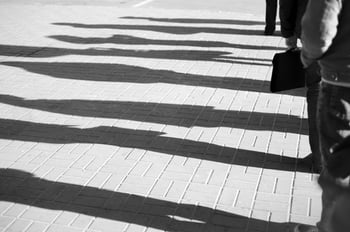 The best idea in the world won't set the world on fire unless it's shared in just the right way. Too many people let smart ideas and good products fall to the wayside because they falsely believe that if they build it, people will come. You wouldn't expect to see lines forming at your door if you opened a store that sells down jackets and snow boots along a desert highway in the middle of July. However, setting up a kiosk that sells fur-lined boots and hats in a cozy ski lodge just might create a line full of eager buyers. The same basic logic applies to B2B marketing. Far too many people are opening coat stores in the desert instead of taking their products directly to the ski lodge. The simple truth is that how we share is as important as what we share these days. Successful marketing is actually just successful storytelling. A confident marketer knows how to jump in and narrate every twist and turn of a great story. While many people assume that advertising to other businesses involves less creativity than marketing to the general public or niche markets, B2B marketing actually requires its own specific type of storytelling. If you're looking to craft a B2B marketing strategy, you need three things:


Credibility as a storyteller
The ability to make your clients see themselves as part of your story
The ability to write new chapters in response to the demands of your clients

You might be wondering how to achieve those goals using practical steps. Here are the five things every B2B company needs to focus on if they plan to create a relevant story that people will want to hear.

1. Know Your Customer

One of the things that entrepreneurs have the hardest time wrapping their heads around is the fact that an amazing product won't automatically generate buzz or revenue. In fact, many programs and products that are meant to solve a problem or optimize a process will go largely unnoticed and unused by the majority of the general public. However, for the small segment of small businesses and corporations that actually needs that product, the potential for buzz can be huge. The trick is to focus your energy on spreading awareness about your product or service to the right segment of the population. In fact, one could go as far as to say that any marketing dollars spent on informing people who don't need to know about your product is actually wasted money. Before you construct a marketing strategy, it is important to know the answers to the following questions:


Who needs to know about my product?
Where can I go to reach the people who need to know about my product?
2. Be Clever and Do it Right
Business to business marketing doesn't have to be all business. Sometimes it's okay to use humor to draw clients in. The Nielsen Global Survey of Trust in Advertising recently conducted a poll that included the responses of 29,000 people in 58 countries. The results of the poll showed that almost half of all global respondents were in agreement that ads that contained humor resonated the most with them above all else. When tastefully done, humor can make a brand appear more relatable. Humor can be especially powerful when it is used to market a tech product that is usually thought of as being dull. Cisco is a company that's known for artfully crafting humorous campaigns that take the dry nature of computer components makes them funny. For instance, Cisco ran a campaign that marketed its $80,000 ASR 9000 router as the perfect Valentine's Day gift. The ad went on to be shared on the social media sites and blogs for many months.
3. Be Mobile Friendly
If you are directing clients and potential clients to a website that isn't compatible with mobile devices, you're way behind in the game. While investing in a cutting-edge platform that makes it easy for clients to interact directly with your brand is ideal, having a site that displays clearly on small screens is the bare minimum you should be able to pull off. More and more B2B companies are using mobile apps that provide service tools and methods for data collection. If you provide a digital solution or product that can be downloaded or accessed virtually, having a user-friendly website is one of the most important things you can do. Increasing the amount of interaction clients can have with you from their mobile devices without needing to be on a desktop computer increases the likelihood that you will become a part of their workflow and routine.

4. Protect Your Reputation
In the world of B2B business, news travels quickly. A vendor can earn a negative reputation pretty quickly if they don't go above and beyond to meet a client's expectations. What's at risk if you don't focus on meeting the needs of your clients? Not only will you risk being blacklisted within the various departments of the company you've just disappointed, but you'll also risk negative chatter about your service throughout the industry you serve.

5. Find the Influencers
Successful B2B marketers know how to find the popular kids. Just like the way certain people could set trends in high school, there are department heads and taste makers in the corporate environment who can help to make a product or service rise to the top. These are the people you want to reach out to and offer free or discounted versions of your product to. You can network with these people in a receptive environment by attending industry conferences or seeking them out in LinkedIn groups.
Building a great product is just the first step to success. A tight B2B marketing strategy that gets your message to the right people using the right channels is the way to become a recognized name in your industry.