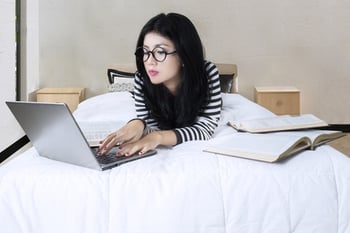 Forbes magazine has named its top 7 Content Marketing Trends to watch for 2016. Where online marketing once was dependent on volume of quality content produced, the more important trend these days is to connect with people across several mediums, whichever one they choose to use at any given moment.
Content marketers thus have to keep up with several new technologies at once. Jayson DeMers has outlined the ideas that will need attention to stay competitive:
Aggregated content, as users become more in charge of marketing content. Complex software is now able to take blips from the social profiles of millions and piece them together for a marketer's review.
Algorithms. According to some estimates, you've already read at least one article written by a robotic algorithm instead of a freelancer. Algorithms can produce simple stories about sports or the weather, but they're about to become more sophisticated and we will be hearing more about this.
Google's Knowledge Graph will nudge a shift toward longer form content. The increased precision of answers to long questions will negate people to go to other websites at all in some cases.
New publishing options in social media. Facebook and Google have already introduced this easy article function and others will follow.
More visuals. With more and more content out there, visuals will play more of a role in getting people's attention to read them. Video continues to be in demand.
Interactive content will emerge. The ease of custom search results and personalized newsfeeds have gotten people used to be able to ask for what specifically they want to read.
The content market is starting to become saturated, and the new items mentioned above will make it even more active, with the result being more competition and only quality content getting meaningful attention.
To read the full article, go here.
Additional Resources & Further Reading:
http://www.forbes.com/sites/jaysondemers/2015/10/01/the-top-7-content-marketing-trends-that-will-dominate-2016/