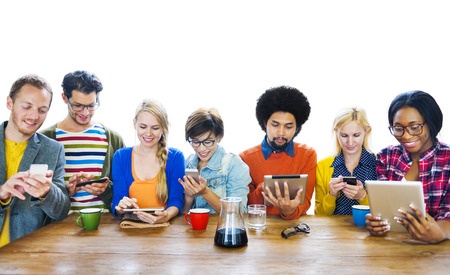 The worlds of technology and marketing have their own superstars and legends. Everyone who has taken a business class has heard of guys like Gary Vaynerchuk, Neil Patel and Guy Kawasaki. However, there are many more influencers to follow and be inspired by. Each sub-specialization of marketing has its list of celebrated experts who are respected for their abilities to lead, inspire and deliver results. These people are changing the way we all do business. It's definitely a good idea to follow what these influencers are doing. The good news is that they are all extremely generous with sharing the wisdom behind their winning methods. Here's a look at the seven people shaking up the marketing world. Let these gurus show you that there's nothing wrong with embracing what's new when it comes to sharing your brand with the world.
1. Ann Hadley
As the Chief Content Officer of MarketingProfs, Ann Hadley wakes up every morning thinking about every word that will be written on the Internet that day. This queen of content has made it her mission to inform marketers about the good, the bad and the ugly of how words shape a brand. It should come as no surprise that she was invited to be a participant in the LinkedIn Influencer program. She has spent her career creating and managing digital content for a number of high-profile companies and individuals. However, Ms. Hadley isn't one to be selfish when it comes to the knowledge she's attained during her successful streak as a marketing heavyweight. She is the author of two best-selling books about how to succeed as a marketer in the digital age. "Your Go-to Guide to Creating Ridiculously Good Content" and "Content Rules: How to Create Killer Blogs, Podcasts, Videos, Ebooks, Webinars (and More) That Engage Customers and Ignite Your Business" have become the bibles for marketing managers and CEOs around the world. Of course, Boston-based Hadley has proven that she is truly an early adapter of up-and-coming trends by famously building a tiny house on her property to serve as a personal office. She routinely dispenses her tidbits of tech wisdom in such online publications as Entrepreneur, Huffington Post and Mashable.
2. Jay Baer
The man who is the most re-tweeted person in the world among digital marketers needs no introduction when he shows up to speak at conferences around the world. As a podcasting star, investor, speaker and business founder, Jay Baer knows how to get the word out. This digital marketing guru helps marketing professionals from around the world unmask the secrets behind reaching their desired audiences and making an impact. He is a wizard at unlocking how to attract new customers while engaging and maintaining existing ones. Anyone who knows Baer knows that he is a man who embraces change and innovation. While you may not have heard of Jay Baer before, all the big names in the marketing world certainly have. He is the author of five best-selling books. In addition, he has spent the past 20 years serving as an adviser to giants like Nike and Caterpillar. Even the United Nations calls on Baer for marketing advice. It goes without saying that this marketing maverick already knows the trends to look out for in the year ahead. Jay Baer is definitely a name to follow in 2016 if you want to take your digital marketing game to the next level.
3. Rand Fishkin
As the founder and former CEO of Moz, Rand Fishkin has come to embody the hipster side of the tech industry. There's a lot hiding behind his trendy beard and love of posting travel photos on Instagram. This savvy leader has SEO genius in his blood. In addition to authoring a set of wildly popular books on SEO, Fishkin is the co-founder of Inbound.org. He spends his time traveling the world to speak to teams at tech giants like Google, Facebook and Microsoft. As Fishkin's star rises in the tech industry, Moz continues to serve as the largest community of SEO users on the planet. The site offers industry-leading data that helps marketers stay engaged and relevant in the ever-changing digital marketing landscape.
4. Kim Garst
Kim Garst knows how to mix socializing and selling like no other marketer on the globe. As founder and CEO of Boom Social, she lives to help her followers achieve branding success. Garst's winning recipe for success is based on the concept of making social media personal. She is a genius when it comes to showing clients how to engage customers and create lasting relationships between products and people. When she's not behind the keyboard spreading the word about how to spread the word, Garst provides social media keynotes and in-depth training to both well-known corporations and rising entrepreneurs. In fact, she has even given pep talks to teams at IBM.
5. Larry Kim
Larry Kim is a rock star in the world of pay-per-click advertising. This seasoned guru definitely has the technology chops to back up his bold and innovative marketing methods. In addition to being the genius behind a company called WordStream, Kim spreads his wisdom at marketing industry conferences around the country. He has published articles in countless technology and business publications throughout his career. He is also the author of four award-winning books. Of course, the proof is in the pudding when you consider that Kim is recognized for being the author of the most shared pay-per-click article of all time.
6. Avinash Kaushik
Avinash Kaushik is a man with a global reputation when it comes to B2B marketing. The incredible growth in relevance of B2B marketing makes it essential for marketers to keep an eye on emerging trends and technologies related to the niche. Kaushik has been outspoken about the need to simplify the perceived complexity in the field of data analytics. He should definitely make the top of your list of people to follow if you want to learn how to posture your brand for success in this data-driven world.
7. Joe Pulizzi
Joe Pulizzi is king of content. He is the man to go to when you want to strengthen your content strategy and build an audience. Of course, Pulizzi is best known as the founder of Content Marketing Institute. CMI offers advisory services to such giants as HP, the Bill & Melinda Gates Foundation, AT&T, Petco and LinkedIn. As one of the driving forces behind today's content marketing movement, this successful entrepreneur is in demand as a speaker. Audiences full of business leaders from all industries have shown up at 400 locations in 14 countries to learn about the latest and greatest trends in content marketing from Joe Pulizzi.
What marketing superstars do you follow? Please let me know in the comments.