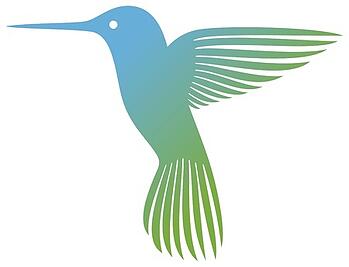 Have you tried asking your smartphone a question lately? Today smartphone virtual assistants do a lot more than dial up phone numbers in your address book. Apple's Siri, for example, can look up anything on the Web – as well as send a text or email and get directions – to let you know where is the best place to find deep-dish Chicago style pizza in your neighborhood or where a movie is showing.
As convenient and easy as voice controlled natural language interfaces are to use, Google is taking them to the next level with its newest search algorithm called Hummingbird. With Hummingbird, Google not only understands what you have asked; it also understands the follow-up questions to add to the original search. A Hummingbird search would go something like this, click your smartphone's microphone and say: "Empire State Building." Google will search for some information about the Empire State building – maybe how many floors it has – and read it back to you. Then you could ask "when was it built." Google will return a relevant site with information about the construction of the Empire State Building." If you ask about visitor hours, Google will take you to the 'visitor information' page on the Empire State Building website.
Previously Google used relevance to match individual search words with content in its index to produce results. Hummingbird makes search smarter by looking at a question in context rather than viewing words within the query as separate and unrelated.
Hummingbird Fuels the Resurgence of "Long Tail" Keywords
Google's new algorithm responds to a rise in conversational search, which has emerged as more and more people search on their mobile devices not just by typing in questions, but by conveniently 'voicing' them using speech-to-text abilities. As a result of user desire for a conversation; long-tail or real language search is replacing simple keyword search. For example, a user can inquire "where can I find a local dog walker" rather than simply "dog walker." Hummingbird will locate the user's home address to provide a list of possible services in the neighborhood.
Hummingbird Impacts Content Marketing
From conversation to content, Google's Hummingbird is going to impact content marketing. In much the same way as Hummingbird connects relevant websites to answer a series of related – or contextual – questions, website content will need to connect a series of related content pieces. Visitors to your website won't be looking for the answer to just one query. Once they arrive on your site, they will be looking for content to answer a series of questions about your products and services.
The change in content is already happening. No longer does Google reward high ranking short content pieces that are 'rich' with the repeated use of simple keywords to elevate search. Google now looks for longer content pieces that address or 'predict' more questions a user would most likely have pertaining to a topic.
Connect the "Content" Dots through the Customer Buying Cycle
By applying the Hummingbird approach, you'll want to consider what questions or issues come up as customers move through the buying cycle or "sales funnel." By guiding customers through related content on your site, you'll be able to address issues that logically arise as a customer looks for information, evaluates options and finally compares service and price. The key is to make sure your site makes it easy to navigate from one piece of content to another.
In the end, when customers can use long-tail search capabilities, they are better informed and move further along in the sales cycle than those who do not use them. For that reason, the ability of the long-tail search to impact the sales cycle may be the most valuable contribution of Hummingbird. Long-tail searches have a higher conversion rate than standard keywords – as much as 2.5 more times, which makes them more profitable.
Live by Inbound Marketing Principles
Google and marketers are trying to please the same audience. No matter what changes Google makes in their algorithms, the goal will always be the same for both – to engage and satisfy your customers. So focus on your buyer personas and your SEO will automatically fall in place.