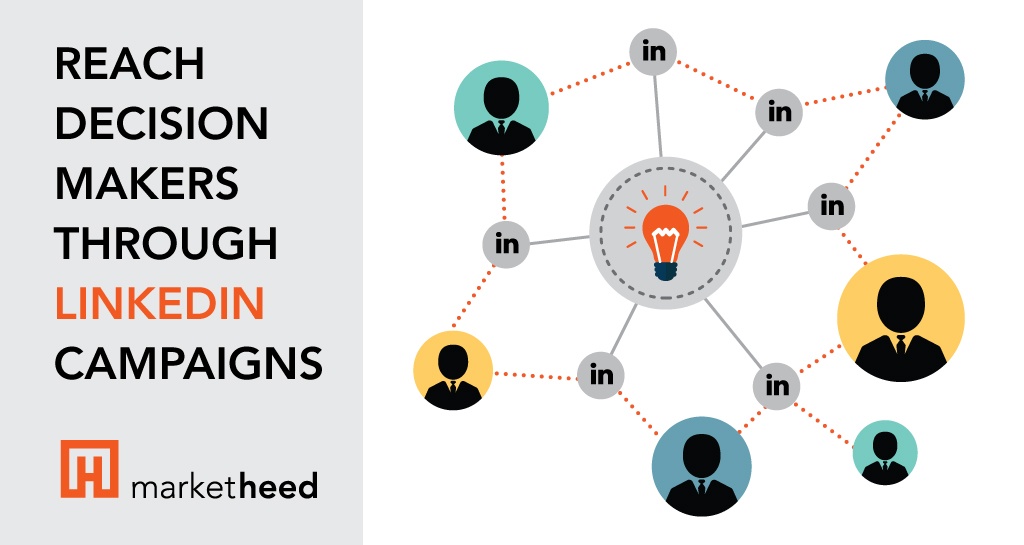 Social media marketing has become an integral part of B2B marketing strategy. And all us B2B marketers have had our fair share of struggles to get it off the ground.
We all learn the hard way (or through our peer's painstaking efforts) that not all social sites are equal when it comes to generating B2B leads or reaching decision makers.
Why Use LinkedIn to Reach Decision Makers
LinkedIn no-doubt is the best platform for engaging those who have the ultimate authority over purchase decisions.
LinkedIn has a much higher concentration of college-educated, high-earning members who are more likely to be in decision-making positions.
Approximately half of the LinkedIn members stated that they are more prone to purchase from a company with which they engaged on LinkedIn.
65 percent of the companies who acquired a client through LinkedIn

reported consistent, continued sales, according to LinkedIn.
Content has become increasingly necessary for online marketing, and LinkedIn allows you to publish your relevant content where it will have the most impact in a professional context.
LinkedIn allows marketers to target audiences with a great deal of accuracy.
LinkedIn generates approximately 277 percent more leads than Twitter or Facebook.
LinkedIn works well for both

lead and demand generation.
Like all social media sites, however, the best results are obtained when you use LinkedIn effectively and within the parameters accepted by the members. In other words, LinkedIn is not the place for irrelevant posts, spamming or hard selling. Your goal should be to engage decision makers in a productive discussion, nurture relationships and build trust.
Why Use HubSpot to Reach Decision Makers on LinkedIn
When it comes to integrating social media into a B2B marketing strategy, HubSpot has always provided an easy way for marketers to promote their content and their company on LinkedIn to reach those decision makers. And with today's announcement, HubSpot is taking it one step further.
Starting today, HubSpot is launching a new Ads add-on to its marketing software that will offer the easiest way to create, measure and leverage ads. This add-on will enable creating and launching LinkedIn Sponsored Updates and Paid ads campaign right into the HubSpot platform. Most existing advertising solutions don't focus on B2B leadgen and none are able to connect the dots to the actual faces names and numbers of customers they generate and the resulting ROI. However HubSpot is changing that to finally help marketers master ads and connect the ROI dots.
Read the complete announcement here.
10 Tips to Reach Decision Makers on LinkedIn
LinkedIn offers you many options for accomplishing your marketing goals.

Start by building a company page on LinkedIn. Keep it professional, which means that if you lack the time or skills to create a great-looking, functional page, you should probably hire someone to do it for you. Decision makers are hard to impress and short on time, so you want to make the best first impression that will get you noticed and remembered.
Join the appropriate groups and participate in discussions. Using a tool like HubSpot, you can share content that would be genuinely useful for the members of the group. Be sure not to post irrelevant comments or blatantly advertise your products or services. Decision makers or not, nobody likes to waste time. By avoiding updates that may annoy people, you will gain their trust and become known for the right reasons in the group.

Be active on LinkedIn. Post regular company updates. Publish well-written, informative articles that will engage your readers and promote your company as a qualified expert in your field.

Use tools like HubSpot to schedule updates and pace them evenly rather than posting in bulk.

This is also the key piece for a well thought out B2B content marketing strategy as it not only helps you gain visibility for your content, but it also positions you and your company as a trustworthy source for information that decision makers seek.

Consider purchasing sponsored updates or display ads on LinkedIn. The rates are a bit higher, but you will reach a highly targeted audience on LinkedIn. If you want to reach decision makers, LinkedIn offers one of the best platforms out there to do so. Starting today, HubSpot is making it easy to create, measure and leverage LinkedIn ads, use this invaluable tool to your advantage.

If you are an existing HubSpot customer, you can sign up for the Ads Add-on free trial today and receive a $100 LinkedIn Sponsored Updates ad credit!

Start creating LinkedIn ads, and connecting your marketing ROI dots without leaving the convenience of your HubSpot interface today.
Periodically examine your circle of connections to see their connections. Ask your connections to introduce you to those with whom they are connected who might be a viable lead for you. For example, if you are connected to an employee at a company that you feel would be a good target customer for you, ask them to introduce you to the appropriate decision maker at the company. If you have played your part well on LinkedIn, chances are that your connection may proactively recommend you to a decision maker at his company when any such need arises.
Tell your story. Start with your company page. Explain why your company exists and what pain points your company can eliminate. The details of your story should be all about your clients — what they need or want, even if they do not yet realize it.
Be sure to keep your LinkedIn company page synchronized with your website. You need to maintain consistency across all channels. If you change your logo or phone number, for example, or launch a new product line, make the updates on both your marketing channels at the same time.
Provide links to relevant posts on your website's blog in your LinkedIn posts. You can share the links on both your company page and personal page to reach a wider audience. Just make sure that your content is relevant to your audience, fresh and does not duplicate content that you have published on the LinkedIn Pulse platform. If you're using a tool like HubSpot, you can even track how these posts are performing on LinkedIn – how many clicks, interactions and leads they are generating for your company.

Consider showcase pages to reach specific audiences or build relationships. Showcase pages allow you to create a distinctive page for every product or service your company offers and target each message to a different audience.

Read the

beginner's guide to showcase pages

to get started.

Do not make every action on LinkedIn a self-serving one. A good rule of thumb is that for every self-serving post, you should share four or five other relevant posts written by others.

If you are a B2B marketer who is not leveraging the power of LinkedIn, you could be missing opportunities to reach the true decision makers. LinkedIn allows you to target the people you want to reach with more accuracy than the other social platforms, and you can obtain excellent results if you use LinkedIn properly. And now with HubSpot's new addition to its marketing software, reaching those decision makers have gotten easier than ever.