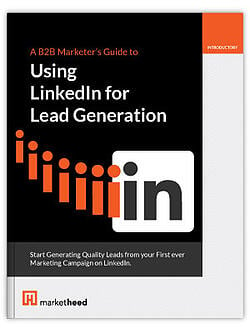 Since LinkedIn was established it has long been thought of as a business networking platform with an emphasis on recruiting. Recently, they have begun making changes that have expanded LinkedIn's purview into being a professional publishing platform as well. This creates enormous opportunities for B2B businesses looking to grow their client list in addition to finding top talent.
If you're a small- to mid-sized business, you may have few established connections. You could spend months making new connections and working on forums to build your footprint on LinkedIn, or you could spend some money and a lot less time to generate quality leads on LinkedIn with this useful guide.
In this eBook, you will learn how to:
Get started with using LinkedIn for Lead Generation
Get more visibility on LinkedIn for your business
Choose between Sponsored Updates and LinkedIn Ads
Create content that will make the biggest impact and help generate quality leads.
Generate positive ROI relatively quickly when using LinkedIn as a marketing platform
Download this eBook to learn how to start generating quality leads from your first ever marketing campaign on LinkedIn.